Wes and Christina Starr
Pastor Wes and his wife, Christina, served as campus pastors at REACH International Church in Dearborn. Pastor Wes graduated from Lee University with a bachelors degree in Pastoral Ministry and in Spanish. Christina graduated with a bachelors degree in Anthropology and currently teaches elementary school. They have one daughter and are passionate about evangelism, discipleship and missions. Wes enjoys reading and running, and Christina enjoys art and music. They both love community and company.
Our team of elders form a council that helps to provide dynamic leadership and consistent direction for our church.

Nick Bolton
Nick enjoys tinkering with anything mechanical and provides steady leadership and wisdom. As an elder, he oversees the building and grounds of the church. Among his various hobbies, he enjoys his family very much, his wife Lisa & two children, Hannah & Micah.

Kathy Mayer
Kathy loves life and her laugh brightens any room she enters. As an elder, she oversees the finances of the church through her role as treasurer. Kathy is married to Tom, has 2 sons, David & Tom, and 4 beautiful grandchildren.

Dan Roberts
Dan enjoys encouraging others with his uplifting personality and provides visionary leadership to our team. As an elder, he helps to oversees the ministries of the church. He is married to Angela and has four wonderful children.
Our team of ministry leaders make family ministry fun and exciting here at Highest Praise.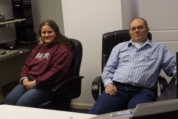 Phil and Kim Craft
Phil and Kim know how to make any task enjoyable. Phil is our lead usher (the one who helps people to their seats, answers questions and coordinates those helping with the offering). Kim directs our media team. They enjoy barbecuing year round.

Zaneta Craft
Z (as we like to call her around here) takes care of our Gathering space, or cafe. She brings tasty treats on Sundays and has a passion for making people feel welcome.

Cyndi Eibler
Cyndi leads our little ones in the nursery. She and her team create a fun, safe, learning environment for our kids 0-4.

Doug and Kathy Prater
Doug and Kathy have been married for 45 yrs. and are retired. Doug leads us in worship each Sunday morning. He works with wood and plays music. Kathy likes to make crafts and go to craft shows. Both love God and His word. He helps them through life and they like helping people.

Tony and Peggy Prater
Tony and Peggy work with our children and youth. They are full of creativity and energy. Tony loves anything to do with sports and Peggy enjoys running her daycare.

Pictures will be coming soon!